Turmeric Latte Blend
Soothe blend by Zandi Organics
Experience golden relief and bliss at first sip with our Signature Turmeric Latte Blend.
---
Certified Organic Ingredients
All natural
High potency
Benefits
Certified Organic Ingredients
All natural
High potency
Caffeine Free & Gluten Free
No Added Sugar, No Additives
Made with love in Australia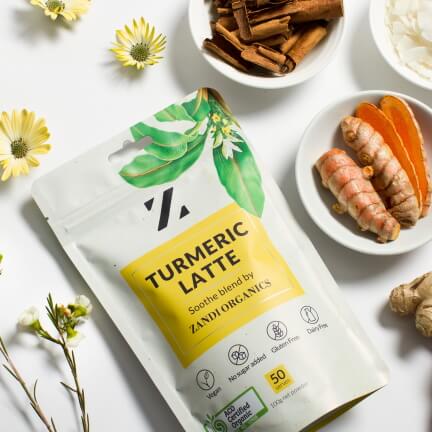 WHY CHOOSE THIS TURMERIC LATTE BLEND?
Our Turmeric Blend is all natural whole foods from plants – the way mother nature intended.
Turmeric root has been used in Ayurveda medicine for centuries to treat everything from blood clots and arthritis to skin disorders. It's chock full of vitamins, antioxidants and curcumin.
What is Turmeric and what is Curcumin? Turmeric is a plant in the same botanical family as ginger scientifically known as Curcuma longa. Curcumin is a naturally occurring compound within the turmeric plant's roots. We believe the most benefit is from taking the whole herb rather than an extract as all the constituents work together synergistically to have a healing effect on the body.
It is recommended to aid in the following instances; reduce inflammation throughout the body, joint health, mood and anxiety, alleviate aches and pains, improve brain function and think clearer, increase vitality, clarity and energy, improve gut health, improve sleep and aid in weight loss. It is a natural antioxidant, antibacterial and antifungal.
Our blend has been tested for its Curcumin level at least at 5%, it is medicinal strength and we have manufactured under HACCP accredited processes. This is an international standard which demonstrates to our customers our commitment to producing and trading safe food.
Additionally, our blend uses Ceylon "True" Cinnamon, instead of Cassia "Fake" Cinnamon which most other brands use. Ceylon Cinnamon is higher quality, sweeter tasting and studies indicate the following benefits:, anti-inflammatory, regulates blood sugar, antioxidant, anti-bacterial/anti-fungal and cognitive enhancement.
The acerola cherry serves as a natural sweetener and has 10x the vitamin C of oranges!
WAYS TO ENJOY YOUR TURMERIC LATTE.
Mix half a teaspoon to a teaspoon into 250ml of steamed milk of choice, or pop it into your morning coffee and you can even make it like a tea, the choice is yours.
As it is a fat soluble blend we prefer stirring it into a latte using beautifully nourishing coconut milk.
This blend is best enjoyed first thing in the morning or last thing at night before bed for maximum soothing effect.
Whichever way you choose to use your blend, you can be sure of the finest quality ingredients paired with a satisfying earthy flavour.
TELL ME HOW A TURMERIC LATTE TASTES.
We steered clear of cayenne or anything too hot or spicy, so this is a slightly warming and thoroughly enjoyable way to experience the golden benefits of Turmeric.
The result is a blissful moment of calming relief for your body from whatever's going on, making it easier to handle whatever life may be throwing at you. So sit back, relax, unwind and enjoy the bliss and relief this blend will bring to your day.
Ingredients:
Alleppey Turmeric powder 5% Curcumin (70%)
Coconut milk
Ceylon cinnamon
Ginger
Acerola cherry
Cardamon
Black pepper