Matcha & Tulsi Latte Blend
Calm blend by Zandi Organics
Matcha allows you to maintain alertness and clarity of mind whilst still finding your inner Zen, so you can continue changing the world one thought at a time.
---
Calm your mind and reduce stress
Detoxify naturally
136x the anti-oxidants of green tea
Benefits
Calm your mind and reduce stress
Detoxify naturally
136x the anti-oxidants of green tea
10x the nutrition of green tea
Boosts metabolism
Burn fat more effectively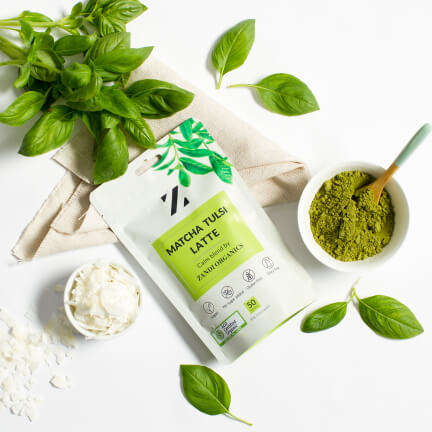 WHY CHOOSE THIS MATCHA & TULSI LATTE BLEND?
How often do you find Matcha paired with Tulsi? Two incredible ingredients that complement each other perfectly.
Matcha powder is finely ground tea leaves from the Camelia Sinensis plant - the same as green tea. The difference is Matcha is harvested much earlier and carefully ground into a powder which you can ingest. All of this means greater benefits to you.
Matcha is detoxifying, alkalising, packed full of anti-oxidants and also contains the amino acid L-theanine, which has been shown to calm the mind.
Tulsi, aka Holy Basil is an adaptogen herb, being traditionally used for relieving stress or anxiety.
WAYS TO ENJOY YOUR MATCHA & TULSI LATTE.
A fantastic way to start the day. Simply shake it into your water bottle for an instant alkalising greens hit or enjoy it made as a tea, using a little cold water first before topping with hot water.
1/2 to 1 small teaspoon of this blend is beautiful enjoyed whisked into 200mL your favourite hot milk in the morning as your daily pick me up. Feel free to add a little cold water first then top with milk at your preference.
Great with steamed almond, coconut or oat mylk as the earthy tone complements that of the Matcha, however as a tea with hot water is also delicious.
Perfect after lunch, pre or post workout as Matcha helps boost metabolism and the blend will help boost your alertness and mental clarity meaning you can tackle the day with confidence.
TELL ME HOW A MATCHA & TULSI LATTE TASTES.
This blend has a taste similar to that of green tea, as this is essentially what Matcha is. It is the green tea leaves stone ground to form a the beautiful fine Matcha powder. The Tulsi and Coconut Milk add a beautiful sweetness and combine wonderfully with the green tea flavour.
There is a definite earthy aftertaste followed by a touch of sweetness. The taste conjures feelings of health and wellbeing, with a maturity and wisdom beyond it's years.
Feel your body glow and your mind ease with this simple yet powerful blend.
Ingredients:
Matcha powder 80% (premium organic grade)
Coconut milk powder
Tulsi herb powder