Untamed HealthHemp Seed Oil Capsules
Higher Omega-3 than any other plant products on the market!
Our hemp seed oil capsules are cold-pressed and produced in a GMP (Good Manufacturing Practice) production facility.
---
Australian grown chia seeds
750mg per capsule
Chemical residue-free
Benefits
Australian grown chia seeds
750mg per capsule
Chemical residue-free
100% traceability from farm to pack
Cold pressed extraction for optimal nutrition value
Great source of antioxidants (vitamin E), minerals, iron, zinc and vitamin D
Contains no mercury
What are Hemp Seed Oil Capsules?
A rich source of essential fatty acids (EFAs) and gamma linolenic acid (GLA), hemp seed oil contains the EFAs Omega - 6 and Omega - 3 in a naturally occurring 3:1 ratio — considered an essential part of a balanced diet.
The new Untamed Health Product Range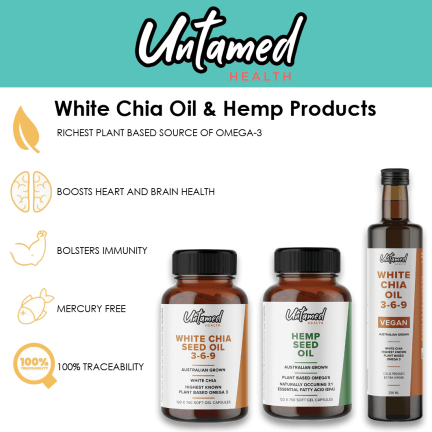 Everything we do maximises nutrient value and delivers health and wellness for our customers
We farm in ideal conditions for the highest nutrition.
Our Chia seeds are farmed sustainably just north of Kununurra, Western Australia. Thanks to the abundant water supply from Lake Argyle and the long, hot and dry harvesting season, it provides the ideal environment to grow Chia Seeds.
Australian grown Chia Seeds have been tested by a third party laboratory and proven to contain the highest levels of omega - 3.
Our Hemp seeds are grown in Tasmania, and are a sustainable food source that is also great for the land. It's regenerating ability improves soil nutrients which makes it a perfect rotational crop for nutrient demanding food crops in Tasmania.
Chemical Residue Free practices.