Boosting your energy this summer
Top tips to stay active this summer and to ensure an adequate mix of nutrients
Summer is almost here (yay) and while most of us love the extra daylight hours and warmer weather, heat and humidity can also make us a little lazy in terms of exercise, feel a bit more lethargic and generally less likely to eat a well-rounded diet. To help keep on top of your energy levels for that extra get-up-and-go this summer, check out some of our top tips to boosting energy and how to ensure you're getting an adequate mix of nutrients.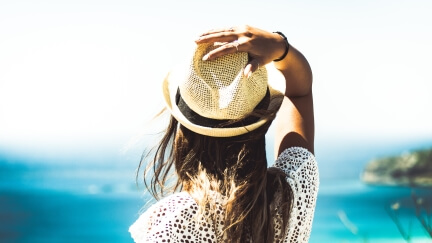 Exercise more
Aside from helping you get more decent levels of sleep, regular exercise works to release stress hormones that, in small amounts, can help give you a little energy boost. What's more, exercise also gives your cells more energy to burn which helps to combat feelings of fatigue. Learn more about beating fatigue with exercise here.
Reduce stress levels
Stress and anxiety exhaust large amounts of energy and can make you feel flat or even lethargic. If you're feeling quite consistently tired, it may be time to start having a look at reducing stress factors in your lifestyle such as your workload. To further reduce your stress levels, try things such as meditation, yoga, mindfulness and other relaxation techniques. Learn more about the impacts of stress here.
Increase Water Intake
Various studies have shown the detrimental effects of dehydration on both energy, mood and brain function. Women are more likely to experience things such as lapses in mood, concentration and an increase in headaches while men are more likely to experience reduced memory, fatigue and even anxiety. To help keep energy drops at bay, aim to drink approximately 2 litres of water per day. The positive effects of hydration are felt most when sipped consistently throughout the day rather than gulped in a few big hits so try to keep a water bottle on hand at all times. Learn more about why water is vital to your health here.
Get restful sleep
Sleep is so important for just about all aspects of physical and mental health and if you're not getting adequate amounts, you can expect to feel fatigued, moody and you guessed it, tired. If you're feeling consistently lethargic, have a think about how much sleep you're getting on a regular basis and whether this could be a contributing factor to how you're feeling. To learn more about the benefits of sleep, follow the link here.
Cut down on added sugar
While we often crave sugary snacks when we're feeling a little low in energy, these foods only provide a short-term boost which is closely followed by a stark drop in energy. If you're after a more prolonged boost, go for wholefoods and complex carbs such as bananas, brown rice or a wholemeal sandwich.
Eat a well-balanced diet
A diet full of processed and sugary foods is not only bad for your overall health but incredibly detrimental for energy levels, especially if you're skipping meals or eating at irregular times. Take a look at your diet and see whether there are some changes you could be making to include more of the following, energy-rich foods:
Eggs
Bananas
Goji berries
Oatmeal
Yoghurt
Avocados
Beans
Nuts
Quinoa
Sweet potatoes
Brown rice
Lentils
Real Food Smoothies
Of course, it's always easier said than done when it comes to eating a well-balanced diet especially during summer when we're spending most of our free time enjoying the sunshine. If you're struggling to get a healthy mix into your diet, try one of our favourite real food smoothie powders below.
Green Dream – Real Food Smoothie
Green Dream helps keep your body energised and ready to take on the world. Created from crushed almonds, dried Inca berries, Maca powder, black chia seeds, green coconut water powder, wheatgrass, turmeric and rice flour (to stop it from sticking together), Green Dream is the perfect smoothie for energising, purifying, alkalising and detoxifying your body!
Choc Devine – Real Food Smoothie
Power up with Choc Devine! This scrumptious super food smoothie powder is jam packed with nutrients while still giving you that yummy chocolate hit we all often crave. As well as tasting divine, this real food smoothie is bursting with antioxidants and long-lasting energy to keep you going for longer. This bad boy contains the goodness of cacao powder, shredded coconut, raw cashews, mesquite powder, quinoa flakes and green coconut water powder to keep you charged up all day.
Berry Goodness – Real Food Smoothie
Berry Goodness is another power-packed smoothie powder that we just love! Harnessing the benefits and flavour of strawberries, shredded coconut, crushed almonds, black chia seeds, acai powder, Camu Camu and green coconut water powder, this delectable drink is a fantastic way to boost your energy and overall wellbeing. 
Biotta Juices
If you're more of a juice person, you could also try creating a refreshing mocktail from Biotta's 100% Beet Juice! With the ability to increase stamina, energy and athletic performance as well as being deliciously thirst-quenching, this is one juice to keep on hand all throughout summer.
Vegan Superfood Bars
For those who like something a little more filling, you could also snack happy with BSKT's Vegan Superfood Bar Maqui Ripe! Harnessing the antioxidant power of the fantastic purple Macqui berry, this super snack offers unmatched health and energy benefits into one delicious little bar.
For more natural remedies and general health advice, shop our online store today and keep your eyes peeled for the next instalment of our monthly health blog.