Supporting healthy summer skin
8 simple ways to nourish and protect your skin from the inside and out
What does summer mean to you? It might mean more time spent at the beach, playing more of your favourite summer sports or maybe spending a little more time indoors escaping the heat. While these things can be greatly enjoyable, they can also mean prolonged sun exposure and many additional hours spent in air-conditioning – two of the worst things for the health of your skin. To help you avoid dry or damaged skin this summer, let's take a look at 8 simple ways to nourish and protect your skin from the inside and out.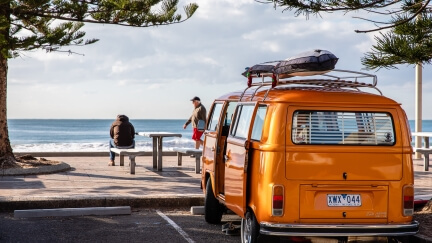 Lather up the sunscreen
It's no secret that sunscreen should be the number one tool in your arsenal when it comes to skin protection. Especially in Australia where UV rays are a high risk, it's so important that we be diligent with applying (and reapplying) sunscreen to avoid sunburn. To best protect your skin in the summertime, pick a water-resistant sunscreen with SPF 30 or higher and apply it as often as you can, especially on days where you're spending more than 20 minutes in the sun. 
Sip for your skin
As mentioned, stress can bring about a range of physiological symptoms that can make it really hard to cope with. Meditation, on the other hand, works to reduce these symptoms by encouraging a state of deep relaxation. During your meditation sessions, your mind may instinctively wander, often to the cause of your stress, and that's okay. The important thing is to acknowledge the thought or feeling and then cast it away as you return your focus to meditation.
Avoid air conditioning
Although it's tempting to spend all your time in the comfort of your air conditioner, this is one of the best and quickest ways to dry out your skin. Air cons work by sucking moisture out of the air which can result in some seriously dry skin if you spend too much time immersed in it. Of course, there are some places (like at work or shopping centres) that you have no control over it, and that's okay. Just remember to moisturise frequently and keep drinking that water!
Moisturise frequently
Bioforce Cream contains a nourishing blend of natural herbs and ingredients to protect and restore cracked or dry skin. Using moisturising agents sunflower seed and avocado oil combined with St Johns Wort oil, calendula and Witch Hazel, this little cream is jam packed with the best ingredients for repairing and relieving discomfort associated with dry, damaged or chapped skin conditions. Harnessing the power of fresh and active plant extracts, Bioforce Cream is the perfect treatment for deeply moisturising and toning the skin during summertime.
Juice it up
Vitamin A helps to protect your skin against UV damage and can even work to slow the progression of fine lines and wrinkles. If you're looking for ways to support your skin from the inside out, Biotta Carrot Juice contains a wonderfully healthy dose of antioxidants and vitamin A perfect for this very purpose. As well as targeting signs of ageing, Biotta's concentration of vitamin A can assist with other skin conditions such as acne, dry skin and pigmentation – making it the perfect addition to your summer skin routine.
Go dark
Dark chocolate is another great way to give your skin the extra protection it needs during summer. This is because it contains quercetin, a flavonol and powerful antioxidant that helps to protect skin cells against damage, provides additional hydration and improves circulation to the skin's surface. Made from natural and organic ingredients right here in Australia, BSKT Vegan Chocolate Buttons are undoubtedly the most delicious skin protection you'll ever try.
Sow some sprouts
Similar to dark chocolate, sprouts contain antioxidants that help to fight free radicals and protect your skin against subsequent damage. Broccoli sprouts are one of our favourites for this purpose, especially as they also contain vitamins A and C to promote sun protection, collagen production and improved elasticity. If you're keen to include sprouts in your diet this summer, grab a pack of A. Vogel BioSnacky® Broccoli sprouting seeds and try your hand at home grown! Just get yourself a seed sprouter, sow your sprouts and watch the magic happen.
Have a cleansing herbal tea
While tea might not be the first thing you think of when considering ways to protect your skin during summer, there are some really good varieties out there that contain the right herbal ingredients to do just that. As well as being a refreshing drink that helps to revitalise and cleanse your system, A. Vogel's GoldenGrass Cleansing Herbal Infusion is based on the herb Goldenrod, which contains the same flavonol as dark chocolate. Secondary to this, the Cleansing Herbal Infusion also contains White Birch which is known as an anti-inflammatory, giving it healing properties against mild irritation and dehydration. Horsetail is another herbal additive of this refreshing tea, incorporating antioxidant and anti-inflammatory benefits for mild skin conditions.
Whatever route you decide to take, always remember to care for your skin during the summertime. To learn more about our natural and organic remedies, head to our online store and keep your eyes peeled for the next segment of our monthly blog on supporting general health and wellbeing.