Feel your best as the year ends: 7 techniques to de-stress
Our favourite and proven stress relievers for anyone who is prone to stress during the final days of the year
While the last days of the year are arguably the most wonderful time of the year, it can also be equally stressful with so many presents to buy, family to organise and kids to entertain. If you're prone to stress, or would just like a few proven methods to help avoid it happening, have a read of our 7 favourite stress relievers below.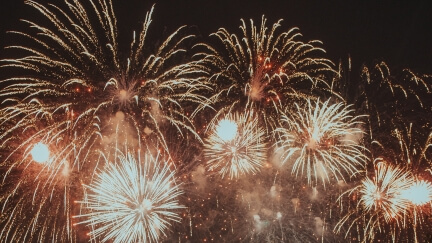 Deep Breathing
Never underestimate the power of deep breathing. As well as giving yourself a chance to centre your thoughts, deep breathing has a physical effect on the body that works to reduce your blood pressure and heart rate – 2 of the most common symptoms associated with stress and anxiety.
Meditation
As mentioned, stress can bring about a range of physiological symptoms that can make it really hard to cope with. Meditation, on the other hand, works to reduce these symptoms by encouraging a state of deep relaxation. During your meditation sessions, your mind may instinctively wander, often to the cause of your stress, and that's okay. The important thing is to acknowledge the thought or feeling and then cast it away as you return your focus to meditation.
Exercise
When under pressure, your body naturally releases stress hormones such as cortisol and adrenaline. As well as reducing the production of these hormones, exercising encourages your body to produce a range of happy hormones and endorphins which help to boost your mood and mitigate high levels of stress.
Sleep
Sleep and stress are inextricably linked, making adequate levels of sleep absolutely essential for reducing your levels of stress. In order for your brain to tell your body to stop producing stress hormones, you must consistently reach deep levels of sleep. If you cannot get the level of sleep your body is requiring, it will continue to release stress hormones the next day and therefore continue the pattern. If you're under high levels of stress, you'll also need more sleep than you normally would to keep up with the extra energy you're using throughout the day, so try getting at least an extra hour or so if you can.
Aromatherapy
Aromatherapy has proven effects as a stress reliever and has been found to increase feelings of calm and help reduce the production of the stress hormone, cortisol. As well as this, aromatherapy is a fantastic option for stress relief as it produces no side-effects and can be used alongside other stress relieving techniques such as massage and meditation.

If you're keen to try aromatherapy, we recommend getting yourself an essential blend like Po-Ho Inhalation Oil. Aside from producing a deliciously relaxing aroma, the inclusion of essential oils peppermint and eucalyptus have been used for many years to assist with cool and clear breathing. Made from a lush combination of peppermint, eucalyptus, juniper, caraway and fennel, Po-Hol Inhalation Oil is available in either a 10mL bottle or a convenient inhaler stick.
Go caffeine-free
If you're working to reduce your levels of stress, consuming high levels of caffeine is not a good way to go. This is because, like inadequate sleep and exercise, caffeine promotes the production of cortisol and therefore increases levels of stress.

If you can't go without your morning cup of joe, give Bambu a go. As a 100% natural coffee alternative, Bambu is made from organic chicory, Turkish figs, malted barely, wheat and Greek acorns. Perfect for both sleeplessness and nervousness, Bambu allows you to get that delicious hot drink your accustomed to without the unhealthy side effects.
Indulge in some dark chocolate
As well as being a deliciously relaxing activity in itself, eating dark chocolate is thought to reduce stress levels when eaten consistently every day. To help you get that little hit of chocolate, get yourself a bag of BSKT's Vegan Chocolate Buttons, the perfect bite size snack or after meal treat to help reduce stress. This indulgent treat is made from 70% cocoa solids, organic coconut sugar and natural vanilla flavour, so you know it's as good for you as it tastes.
Take a moment
While the last days of the year tend to be the ultimate indulgence of food and alcohol, it's important to let your liver destress too. To support your liver over the party season, try to watch your junk food intake, increase your water consumption and compliment these with a natural remedy like A.Vogel's Liver Support. As well as supporting healthy function of your liver, this botanical food supplement provides relief from things like stomach aches, flatulence bloating and colic.
For more natural and organic remedies, check out our online store today and stay tuned for the next instalment of our monthly blog for fantastic tips on promoting general health and wellbeing.